Today at 12pm eastern, we will be releasing AJ Masthay's beautiful
Phil Lesh & Friends
print from the recent show in Brooklyn, NY.
"The freak bears are running rampant in Coney Island! When I was asked to create a Grateful freak show for this Phil run, I couldn't help myself packing in as many characters as possible. The Coney Island freak show is one of those American landscapes whether you're grown up or riding the Wonder Wheel or not, everyone can relate to this slice of Americana."
The 24 x 18 inch,  9 color linoleum block print goes on sale at 12pm eastern today and will be out of an edition of 50 and cost $50 each. The prints will be released on our homepage at
Bottleneck Gallery
. 
There will also be 5 small edition variants. 
Blast Foil
S/N edition of 8
$100
Lava Foil
S/N edition of 5
$100
Red Foil
S/N edition of 4
$125
Sparkle Foil
S/N edition of 12
$100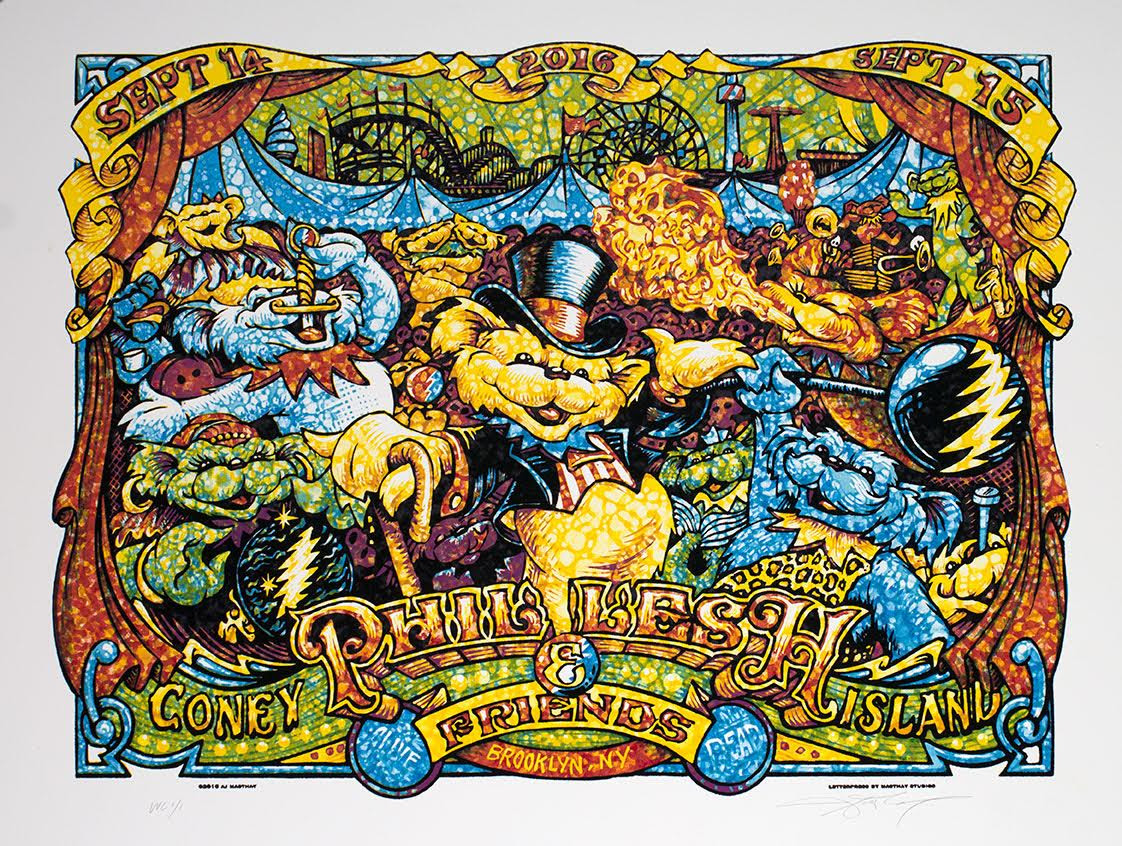 Watercolor
S/N edition of 1
$250

And to continue the Rock n Roll theme of the day, we will be turning it up to eleven with Vice Press & Matt Taylor.
 
3 color screen print
18 x 24 inches
Numbered edition of 120
$50
Screen print on 100# French kraftone black paper
18 x 24 inches
Numbered edition of 30
$60
Both of Matt's
Spinal Tap
 prints will be added to our
store
at 12pm eastern.
We have also completed our first official collaboration with Vice Press & Karl Fitzgerald on an upcoming print release....

The piece came out beautiful. Even Kauto would approve!

 
Just a little shout-out to our friends at
Dark Ink
 who will be releasing Dan Mumford's awesome
Futurama
prints today. 
We will be releasing our first
Futurama
print very soon but if you want to find out more info on this print, you can head over to their site,
Dark Ink Art
. 
Thank you guys for everything. NYCC info coming up next!